PROGRAMS FOR STUDENTS
Student exhibit LAUNCHING now!
Young Creatives: Intergalactica

student art show, grades K-12

May 14 - June 9, 2018

Maui students are asked to submit work for our biennial student show that explores "the big universe" theme, using imagination and brainstorming.

CLICK HERE FOR FLYER about student submissions

High school students are invited to become part of a collaborative lab team working with artisan mentors to create an immersive intergalactic space station for the public to explore.

Lab Days: Wednesdays May 17 & 24, 3:00-5:30

We are offering two free lab sessions for students in grades 6-12 to learn approaches to science and engineering with our lab team, Fuzz Box and the Maui Makers.

FREE but must reserve space! email Shannon

CanDo! DAYS
For more than 20 years, primary students from all over Maui County's school district have been participating in these hands-on art-immersion lessons in dance, drama, and visual arts. This year we've added music to the list. Seeing a need for their students, elementary schools across Maui bring their students to the MACC for this unique arts-experience opportunity. We are excited and proud to continually bring the arts to several generations in the Maui School district.
"It's a fun day of learning outside of school. For other schools, this must be a super opportunity to see integration."
--Pomaikai teacher, about CanDo! Days at the MACC

CanDo! Days at the MACC
CanDo! Days in Hana
CanDo! Days on Lana'i
CanDo! Days on Moloka'i
"Expands their world beyond the classroom.
Various artistic options tap into hidden talents and interests."
- Hana teacher, about CanDo! Hana

"Lanai gets so little exposure to the arts as it is.
It's amazing that kids get to experience the arts so tangibly."
- Lana'i teacher, about CanDo! Lanai

"Arts are so weak in our public schools but so important!"
- Kaunakakai teacher, about CanDo! Molokai
CLICK HERE for MACC Arts Education 2017-18 Catalog CLICK HERE for CanDo! registration form

PERFORMANCES FOR STUDENTS
As a presenter of arts and culture, the Maui Arts & Cultural Center offers an array of performances and events that are specifically geared towards educating as well as enriching the minds and hearts of Maui's students. Whether it is listening to a symphony orchestra, or learning the science behind gravity-defying circus acts, our educational performances aim to "edu-tain" our young audiences! CLICK HERE for 2017-18 Registration Form.
""They LOVED the show! Our students, staff and chaperones had such great things to say about it."
—Montessori teacher, about the student performance by Alvin Ailey II
CROSS CURRENTS
Last summer, we developed a performing arts summer program that explored and blended traditional and contemporary art forms. The format of this program grew out of CanDo! Days. Being place-based, we focused on Hawaiian culture. Art forms we explored included: Hawaiian hula, Modern dance, Hawaiian music, American music, Storytelling, and Spoken Word Poetry. We already reach many students through the DOE setting, so we partnered with the Boys and Girls Club to try to reach Maui's youth in another setting. Questioning the students at the beginning of classes at the Boys and Girls Club revealed that very few of them had previously participated in arts programming.
The Cross Currents program was also offered to adult performing arts students in June 2017. Thanks to the positive feedback and suggestion of our participants,we've decided to offer MORE Cross Currents explorations for 18+:
every Wednesday, Jan 3 - April 25, 5:30 -9:00 pm.
click HERE to view the adult Cross Current page
and find out more about the ongoing program
Here's the Cross Currents Boys & Girls Glub 2017 group: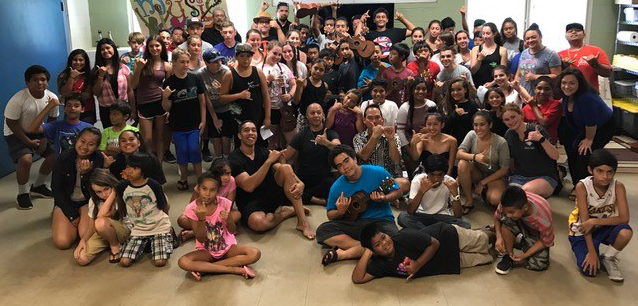 "In my opinion, the most successful aspect of this residency was that both the youth and the adult Cross Currents programs expanded the MACC community. It also felt important to build a direct bridge to a facility, the Boys and Girls Club of Central Maui, that is so close to the MACC itself but whose constituents may not regularly attend events there. This is artist development AND audience development in the most fundamental and important way: creating life-long artists or lovers of art through enriching and positive experiences for youth who otherwise might be exposed to arts education programming."
–Teaching artist, on the success of Cross Currents for Boys and Girls Club
| | | | |
| --- | --- | --- | --- |
| | | | |
| | | | |
| Modern dance | American music | Spoken word / poetry | Hawaiian hula |
| | | | |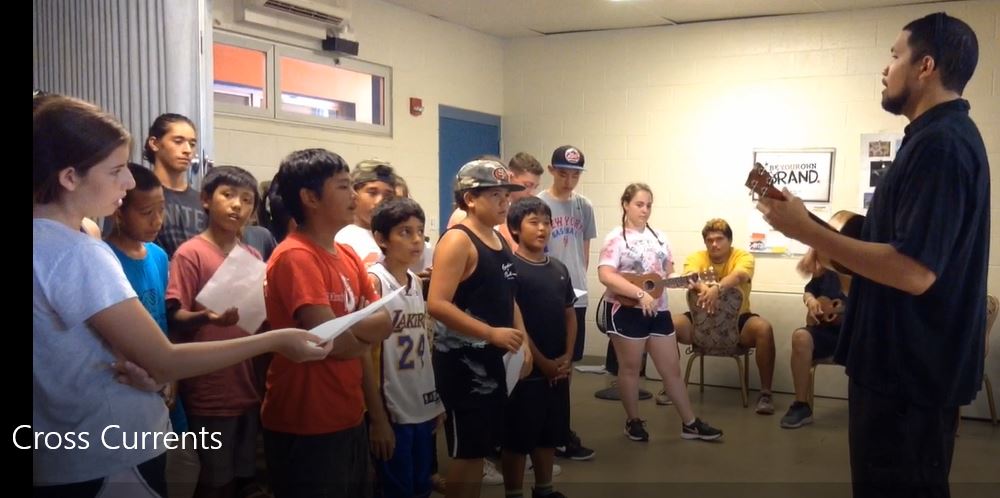 MACC's comprehensive
arts education programs include:

CLICK HERE
for current catalog