Conveniently located in Kahului, the Maui Arts & Cultural Center is located at One Cameron Way off Wahinepi'o Road. Complimentary parking is available for all Castle and McCoy Studio Theater performances. Parking is available on a first-come/first-served basis in the main lot at the Maui Arts & Cultural Center. In the event that the MACC's parking lot is full, overflow parking is available across the street at UH Maui College. For outdoor events, there is a charge for parking. Please contact the Box Office or visit our website for these performances and applicable parking fees. Concert patrons should note that on show nights, the UH lot closes promptly at 11:00 pm (except for the ArT=Mixx events).
GENERAL GUIDELINES FOR AMPHITHEATER EVENTS
please see the calendar's event description for any other details about specific events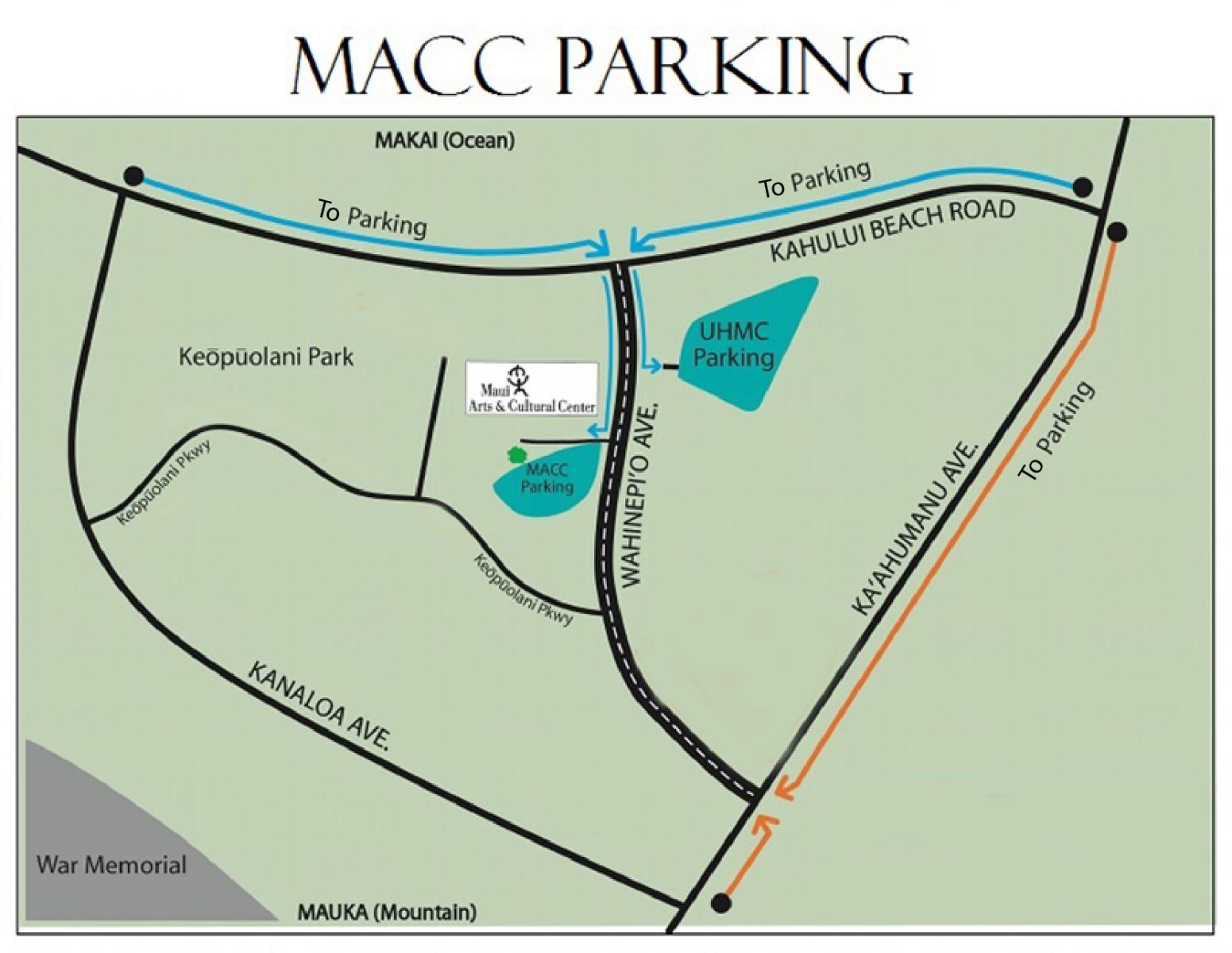 ADA Information
Mobility Impairments
Please inform the Box Office of any specific needs at the outset of ordering your tickets. In an effort to make your expereince at The MACC enjoyable, it would be helpful to be aware of your needs in advance. Given advance notice, special assistance can be arranged for any event. READ MORE

All theaters at MACC are wheelchair accessible. The wheelchair seating access for the Castle Theater is on Orchestra level; there is a wheelchair-accessible elevator to other levels. Wheelchair seating for McCoy Studio Theater is on floor level, near the stage. Wheelchair accessible restrooms, both male & female, are available in Yokouchi Founders' Court, off the McCoy Courtyard, and on Castle Theater Lobby level. Due to the nature of outdoors shows and the flexible environment & set-up, seating arrangements vary for Amphitheater events, on a show-by show basis. Please call or email regarding specifications for each outdoor event.

Service animals are welcome at The MACC; we accommodate trained licensed Seeing Eye and Disability Assistant companions such as dogs or other animals.

Hearing & Visual Impairments
Listening systems are available Audio devices are available for Castle Theater events for assisted hearing: the Castle is equipped for people with hearing impairments with a Sennheiser infra-red system which allows each patron to control the sound level to their satisfaction. Head sets for this system are available at no cost to patrons (we do require some form of identification as collateral) and may be requested from the house manager or the ushers in the Castle lobby upon arrival.

We accommodate trained licensed Seeing Eye dogs. Please ask the house manager or row ushers if you would like assistance to and from your seat.

Please advise the Box Office in advance of your specific requirements. We will try to accomodate everyone's special needs!
To arrange for wheelchair or other special assistance, or to discuss any other specific needs - including information on the blue curb areas in The MACC parking lots - please contact the Box Office before the day of performance so that the event managers and usher staff can receive notification:

Call: 808-242-7469 (Tue-Fri 10 am - 4 pm)
Email the boxoffice
Fax: 808-244-8850