Maui Brewers Festival
Saturday, May 16 2020, 3:30 PM
Saturday, May 16 2020, 2:00 PM

Yokouchi Pavilion and A&B Amphitheater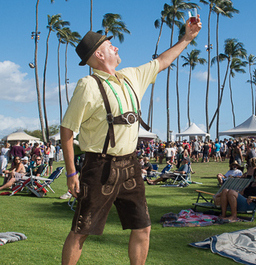 Notice: The global concerns related to COVID-19 has continued to accelerate in scope and impact. Though these are uncertain times, we maintain the hope that all be well and back to normal by a time in the foreseeable future. Ticket sales are on hold for the moment, as we reevaluate the feasibility of the Maui Brewers Festival date.

Please watch this page and our social media platforms for more information as it becomes available.
VIP Happy Hour: 2:00 - 3:30 pm; General Admission: 3:30 - 7:00 pm
The MACC's annual fundraising event—the Maui Brewers Festival—is one of Maui's top festivals! The event features tasty food from local restaurants and caterers at no additional charge, beer tastings from local and national craft breweries, live music, door prizes, a home brew competition, and lots of fun!
Don't like beer? Enjoy hard cider, hard seltzer, kombucha, nitro cold brew, root beer, and delicious food!
This year's breweries include: 2 Towns Ciderhouse, Anderson Valley Brewing Co., Ballast Point, Bear Republic Brewing Co., Big Island Brewhaus*, Boston Beer Company, Breakside Brewery, Burgeon Beer Company, Deschutes Brewery, Eel River Brewing Co., Factions Brewing Co., Firestone Walker Brewing Co., Flying Embers**, Fort George Brewery**, Hana Koa Brewing Co.**, Honolulu Beerworks*, June Shine**, Kauai Beer Company*, Kauai Island Brewing Company*, Kona Brewing Co., Lanikai Brewing Company*, Maui Brewing Company*, Newtopia Cyder, Ninkasi Brewing Co., Paradise Ciders*, Revision Brewing Co., Rogue Ales & Spirits, Second Chance Beer Company, Sierra Nevada Brewing Co., Speakeasy Ales & Lagers, Stone Brewing Company, Uncommon Brewers, Urban Roots Brewing, Waikiki Brewing Company*, Campus Brewing Co**, and more to come!
* = beer is brewed in Hawaii
** = new to the Brewers Festival this year
This year's food vendors will be announced SOON!
VIP tickets include:
• Entry at 2:00 pm for exclusive VIP tasting
• Ten (10) 4 oz. beer tastings
• Access to rare beer throughout the event (while supplies last)
• First dibs at food from over 20 vendors
• Commemorative tasting glass
• Beer lanyard
• Live music
• Prize giveaways only for VIPs
General admission tickets include:
• Eight (8) 4 oz. beer tastings
• Commemorative tasting glass
• Food selections from over 20 vendors
• Live music
• Prize giveaways
Scrip will be available for purchase with cash only for additional pours. An ATM machine will be available on site.
Interested in being a sponsor of the Maui Brewers Festival?
CLICK HERE
for more information or contact Sarah Mitchel-Block: 808-243-4237 or sarah@mauiarts.org

Funds raised from Maui Brewers Festival are vital to the MACC's arts, Hawaiian culture, community enrichment, and education programs, which occur through approximately 1,700 events each year and reach more than 260,000 people annually.
---