Yokouchi Pavilion & Courtyard
YOKOUCHI PAVILION
Capped by a translucent skylight roof made from 288 glass panels, which glow like the setting sun when lit at night and reach to a 50-foot apex, the Pavilion offers ample space for a wide variety of occasions and uses - bring us your imagination and we'll create your ideal event.
With textured concrete flooring framed by stately columns clad in Travertine tile, the Pavilion can easily be enclosed with decorative wood grills made from African mahogany. These panels fit between the columns and are raised or lowered for privacy and comfort, providing 4,096 square feet of interior function space. Expansive roll-drops are available for backdrop and projection use.
 

Yokouchi Pavilion - Winner of Multiple Awards  
Maui Arts & Cultural Center has won three prestigious awards for the design and construction of our shining beacon, the Yokouchi Pavilion:
- American Institute of Architects, Hawai'i: 2012 People's Choice Award
- Building Industry Association, Hawai'i: 2012 Overall Grand Award – New Commercial Building
- NAIOP Commercial Real Estate Development Assoc, Hawai'i: 2011 Best New Project – NonProfit
---
GENERAL INFORMATION
Dressing Rooms
There are no dressing rooms specifically dedicated to the Yokouchi Pavilion venue but the backstage Castle Theater dressings rooms usually suffice nicely. The Haynes Meeting room is another nearby option.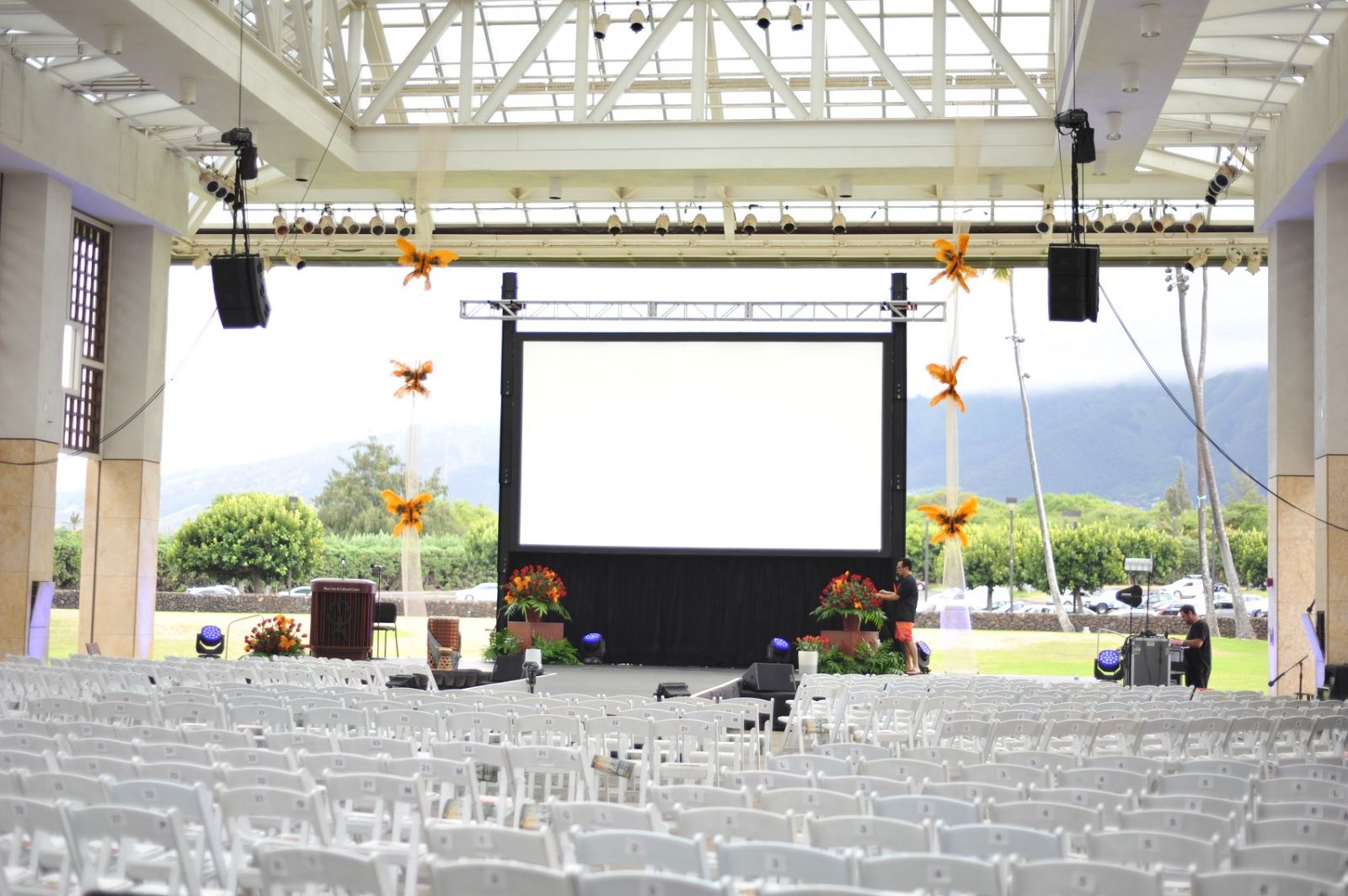 Stage
The Center has a variety of mobile decks that can be assembled at various heights to accommodate the size and needs of the performance. The size of the stage is dependent upon the needs of the event.
FOH Area
The area for audio and lighting consoles for shows facing the A&B Amphitheater is located on the lawn approximately 100' from the concrete pad of the Pavilion. The flush concrete hatch in the lawn at this location is access for cable runs to the stage.
If the event is facing inward towards the Courtyard, FOH is typically located about 75' from the stage near an access panel that provides connections to audio, lighting and power. It is slightly off-center house right.
Contacts:
For technical/production inquiries, please contact Technical Director, Mark Astrella, for additional information:
call 808-243-4243